you can't argue with the scogic
But I'm going to try!! After getting into an argument with my darling friend Scott this afternoon about Bradley Cooper (highlights included his insistence that "it takes a douchebag to play a douchebag" . . . of course it could just mean that he's a good actor, but as my title states, you can't argue with scogic), and since Becky pointed out that I've been neglecting my blog and I don't want to turn into Briton or Pat updating once every month or so, I thought that this would be a good place to defend my favorite actor. I'll admit that I haven't seen him in all of his roles (most recently missing him in
The Rocker
, but in my defense, and as my last couple of posts have indicated, can you really blame me for that? Nobody else saw that movie either!), but let's look at some of the more memorable ones:
Kitchen Confidential

- I might have been the only person who watched this show; it only lasted 13 episodes (effing Fox). But you can't go wrong with a comedy

starring

Bradley Cooper! This show was hysterical and was canceled way too soon - fortunately, thanks to the amazing people over at hulu.com, the complete series can be watched for free online. Check it out.


Wedding Crashers

- When I saw on IMDB years ago that Bradley Cooper AND Vince Vaughn were going to be in this movie, I knew that it would be a classic. It's obviously not one of my favorite BC roles (and it's the one that started the whole "Bradley Cooper is a douchebag" fight), but let's be honest, he had some good moments. And since he was playing a character so different from my favorite role of his (see below), I think that this movie just showed his range and talent as an actor! Scott sucks.

Jack and Bobby

- Another show that was canceled way before its time. This show was for serious up there with

Lost

as my favorite premiere of the 2004-2005 season and I was truly saddened when it was canceled. I loved it even before they announced that Bradley Cooper would be joining the cast, but I was so glad he did (even though he ended up being a love interest for Jack and Bobby's mother . . . what the hell was that?!) I probably contributed to

Alias

's eventual cancellation by regularly watching this show instead of

Alias

, which it aired opposite of, but when you remove the best thing about

Alias

and put him onto the WB, of course Bradley Cooper's going to win.

I Want to Marry Ryan Banks

-

This was another movie that I found out about months before its premiere on ABC Family, when Mary sent me a text message to excitedly proclaim that "Will Tippin and Brandon Walsh" were going to be in an ABC Family movie together. It by far remains my favorite movie ever shown on that network - I would buy it in a heartbeat if it ever came on DVD. (It was on TV a couple of months ago for the first time in years - it shows up on the SOAP network from time to time too, which I sadly did not get in my apartment, but I'm psyched that I get it at home in case it's ever on again). BC played Jason Priestly's best friend and manager and was trying to help his image by putting him on a reality show to get America to love him again. Of course the girl that the producers decided they wanted to "win" ended up falling in love with Bradley Cooper instead. Of course she did, because she had EYES! Um, and because he's awesome and totally not a douchebag. Definitely my second favorite role of his.

Wet Hot American Summer

- This would be my favorite movie even if Bradley Cooper wasn't in it . . . but it makes it so much more awesome because he is. Never mind the fact that he had a gay sex scene halfway through the movie . . . BC was awesome in this movie. I love the scene where Amy Poehler gets made at Jeanene Garofalo for making her put the weird kid in the talent show and then she throws her clipboard to the ground and Bradley Cooper keeps picking it up . . . GOD I love that movie. So obviously anyone who can be in such a brilliant movie couldn't possibly be a douche, he could only be AWESOME. Awesome enough to also play my favorite role of his, one of my favorite television characters EVER, #2 on my list of fictional characters I'm in love with . . .

Alias -

Will Tippin. I feel like those two words alone should justify why Bradley Cooper is not a douchebag, but since Scott (and most people I know) have never watched

Alias

, I feel a need to elaborate by sharing my top five favorite Will Tippin moments just to show the range of Bradley Cooper's awesomeness and non-douchebagginess.
5. Will gets to live, but he gets a heroin addiction.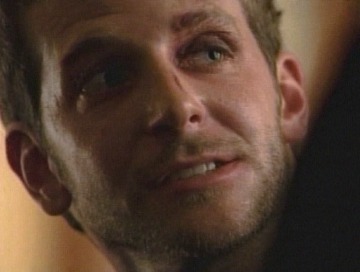 Oh, the price to pay for being friends with Sydney Bristow, but Will's not complaining. I bawled during his confession.
4. Will stills loves Sydney.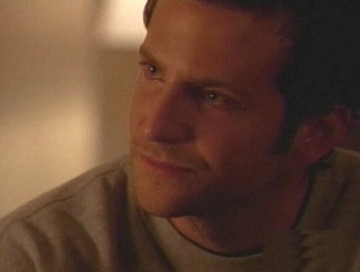 "I don't love you for what you do, or what you don't do. I just love you." If I hadn't already been in love with Will, that's the line that would have done it.
3. Sydney surprises Will in Paris.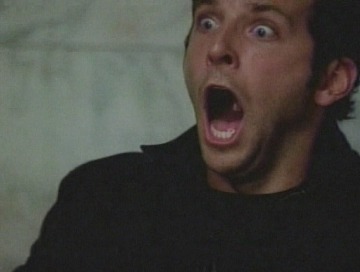 This scene is one of the best Alias scenes ever and this picture was my buddy icon for years. If you think his expression is funny, the accompanying scream is just as great ;)
4. Rock star Will.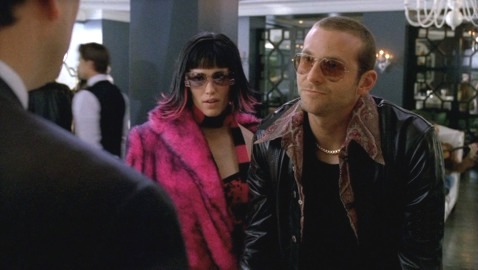 "I'm here, she's here, we made it!" The only thing hotter than Will Tippin is Will Tippin undercover as a British rock star.

Don't believe me Scott?




1. Will hugs Jack Bristow.
Another scene where I bawled like a baby. Will and Spy Daddy... sigh. I don't even know that Spy Daddy had hugged his own daughter at this point in the show, hahaha.
Sadly there are not many Will Tippin videos on YouTube, but you should all (especially Scott!) take my word for it that he was a brilliant character and that Bradley Cooper portrayed him brilliantly and that him being sent to witness protection destroyed the show. Except it gave him the chance to come back in that one episode in season three. Which was amazing. But anyway. I don't know that I made my point and it was probably a waste to try to combat the scogic, but I had to try.
And Scott . . . if you're still not convinced . . . maybe this scene will make you feel better about a "douchebag" getting what was coming to him. And bonus David Anders for the ladies ;)
Labels: bradley cooper, will tippin