may peeps be with you
I figure it's been nine days and everyone who wanted to guess has by now. If you're still desperate for more trivia, go check out
Briton's
blog to see if you know any of his movie quotes! Unless you are Briton, in which case, you're out of luck. Movie quiz answers:
1 - Lord of the Rings: The Two Towers
(I'm actually really disappointed that nobody got this one - it was literally in my AIM profile from December 2002 until probably sometime in 2005)
2 - Clue
3 - Love Actually
4 - Wet Hot American Summer
5 - Playing by Heart
6 - Rosencrantz & Guildenstern Are Dead
7 - Mafia
8 - Swingers
9 - Bridget Jones's Diary
10 - The Emperor's New Groove
~*~
As my title alluded to, with Easter just around the corner, I couldn't resist sharing one of my all time favorite links:
Peep Research
. The whole website is pretty much amazing, but just to give you a little preview, it involves both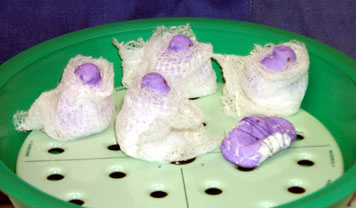 peep separation surgery

and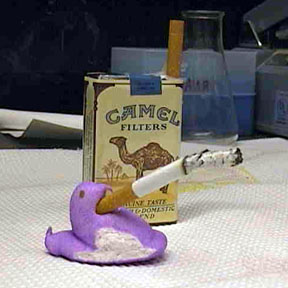 risk analysis

Truly funny stuff.
~*~
Finally, in honor of Spring Break, which started at 10 tonight, and as promised a couple of weeks ago, I have a top ten [thirteen] list that dates back to 2003 from another college friend way more creative than me, this time, Melanie. Most of them are inside jokes, so don't be too disturbed ;)
Melanie's Top Thirteen Things For Me To Do To Keep Myself Entertained Over Spring Break
Throw bricks through Starbucks windows.
Go on a silly string rampage in Times Square.
Eat Marshmallow Fluff and pretend it's the real thing.
DANCE PARTY (with one fist in the air)!
Read stories to your mice. Animals like literature too.
Ignore the elephant that's hanging around.

(So this one was just an inside joke in reference to the Miracle of 86 song, 'G Song', but believe it or not, it was actually feasible! Check it out):




his name was Okonkwo . . . and you bet we ignored him



Throw things out your window and see if you can't hit someone on the crew team...1000 points a head, 10 million points for the captain.
Make squeakies and laughies!
Kick someone's pug as hard as you can while you're on a walk.
Try EVERY inedible thing on the Bubble Tea menu and see how sick you can get!
Introduce yourself to Officer O'Callaghan.
Peeps in the microwave...trust me, it's fun.

(I took her up on this one too . . . this picture looks REALLY mean after that Peeps site above, but I figured why not share)




Take a fast-moving object to the face, and by the time you get out of the emergency room, break will already be over!
~*~

And on that note . . . have a happy Easter, everyone!